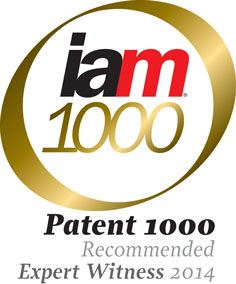 Competition Dynamics is pleased to have been included in Intellectual Asset Management magazine's first-ever ranking of 30 top economic experts in the field of intellectual property.
IAM's 2014 report, conducted as part of its "IAM 1000" global ranking of IP professionals, noted CD's commitment to testimony at the intersection of antitrust, IP and international trade, and observed that CD's "analysis has a certain rigor that is hard to find elsewhere."
This award represents a welcome occasion for CD to highlight the many intelligent and creative attorneys and clients with whom we have been privileged to develop and present persuasive economic testimony at trial.  Thank you!
IAM is a global publication focusing on the strategic creation, exploitation and exchange of intellectual property assets.  The online version of the 2014 report can be found at http://www.iam-magazine.com/patent1000/.  A complete list of IAM's ranking of economic experts, along with selections from the anonymous recommendations made by those surveyed, can be found here.